Product Detail
| | |
| --- | --- |
| Item Name | Motorcycle Ignition Lock |
| Model | WAVE110 |
| Class | GENUINE |
| Condition | 100% Brand New |
| Application | Honda |
| Part No. | 35010-KFL-D00 |
| Production capacity | 20000 PCS/MONTH |
| MOQ | 20 PCS |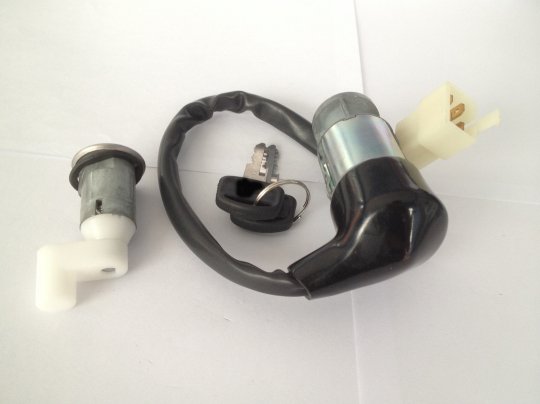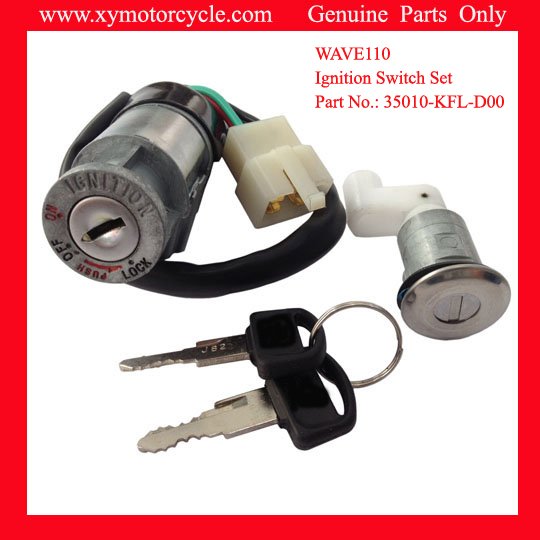 Some of our Ignition Switch Sets for Honda motorcycles & Scooters as follows:
| | | | |
| --- | --- | --- | --- |
| No. | Model | Item Name | Part No. |
| 1 | WH100T | Motorcycle Ignition Switch | 35010-GCC-A10 |
| 2 | LEAD | Motorcycle Ignition Key | 35010-GFM-890 |
| 3 | SPACY | Motorcycle Key Set | 35010-GGC-900 |
| 4 | WAVE110 | Motorcycle Key and Switch | 35010-KFL-D00 |
| 5 | WAVE A | Motorcycle Switch Set | 35010-KTL-680 |
| 6 | WAVE100S | Motorcycle Ignition Key Switch | 35010-KTL-750 |
| 7 | FUTURE XFI | Motorcycle Ignition Starter Switch | 35010-KTM-950 |
| 8 | CBF150 | Motorcycle Ignition Lock | 35010-KTT-890 |
| 9 | SDH125T-23B | Ignition Key Switch Lock | 35010-KVJ-840 |
| 10 | WAVE110 RSX | Ignition Lock Motorcycle | 35010-KWW-A00 |
| 11 | WH110T-5 | Lock and Key | 35010-KZL-950 |
Payment & Shipping Terms
Minimum Order Quantity: 20 pcs
Price: Negotiated
Payment: TT
Packaging: Neutral packing or according to your requirement.
Lead time: 10~30 days after order confirmation
Our Service
1. Original Parts & OEM Parts are available for Honda motorcycle and scooter;
2. Regular supply, some parts always in stock;
3. Small quantity is OK;
4. Quality is our eyes, otherwise we will lose direction.

If you have any question, please write to us immediately so that we can do our utmost to resolve your problem.



About Us
We have all kinds of motorcycle spare parts for Honda China Motorcycles & Scooters. More than 20000 parts are available, ONLY for Honda. E-catalog can be sent if necessary. If you can't see what you need, please donot hesitate to contact us, we will do our best to meet your needs.
What do we have?


Models: Fizy, Spacy, Lead, Beat, Titan, CBF150, CB125ACE, CB125E, CB125I, CB125D, CG125, SCR100, SCR110, some VESPA engine parts and so on.

Honda Motorcycle Spare Parts: VTC VALVE, FCC Clutch, Keihin ECU, fan cover, shroud, cylinder head vover, tube clamp, cylinder head gasket, cylinder head, camshaft, valve, oil seal, rocker arm, cam chain, tensioner, cam chain guide, cylinder, cylinder gasket, right crankcase, left crankcase, oil lever gauge, flange bolt, generator, flywheel comp., stator comp., oil pump drive gear, oil pump assy., starting motor, starter motor, starter pinion, crankcase cover gasket, drive face, variator roller, weight roller set, clutch outer comp., clutch weight set, drive belt, driven pulley assy., tansmission case comp., driveshaft, countershaft, countershaft gear, final gear comp., bearing, oil filter, crankshaft assy., piston, piston ring, carburetor, headlight, headlight bulb, speedometer, handle lever, switch, cable, mirror, switch, screw, nut, front brake master cylinder, washer, handle cover, plastic parts, steering stem, front fork, steering steel ball assy., front cover set, license plate, under cover, floor step, luggage box, body cover, front brake caliper, brake shoe, speedometer gear, front brk panel assy., brake arm, front wheel, rim valve, motorcycle tire, wheel axle, brake shoe set, rear wheel, seal rubber, seat catch comp., rear carrier, fuel tank, drain tube, vacuum tube, air cleaner, air element, evap canister, one way valve, fuel tube, exhaust muffler, muffler protector, brake pedal, step, kick starter arm assy., brake pedal cover,rear cushion, rear fender, reflector, front winker, lens, rear combination light, wire harness and so on.